The ongoing Dubai Air Show has become a focal point for aviation enthusiasts and defense aficionados, with the Indian Air Force's Light Combat Aircraft (LCA) Tejas making waves on the static display and in air. Notably, the Tejas is showcased alongside the Al Tariq missile, shedding light on potential collaborations and advancements in the aerospace domain.
Al Tariq Missile: Precision Redefined: Manufactured by Al Tariq, a subsidiary of EDGE Group in the United Arab Emirates (UAE), the Al Tariq-LR stands as a long-range precision-guided munition (PGM). Part of the Al Tariq family, this missile boasts advanced guidance and propulsion technologies, converting unguided aerial munitions into high-precision, smart, longer-range weapons.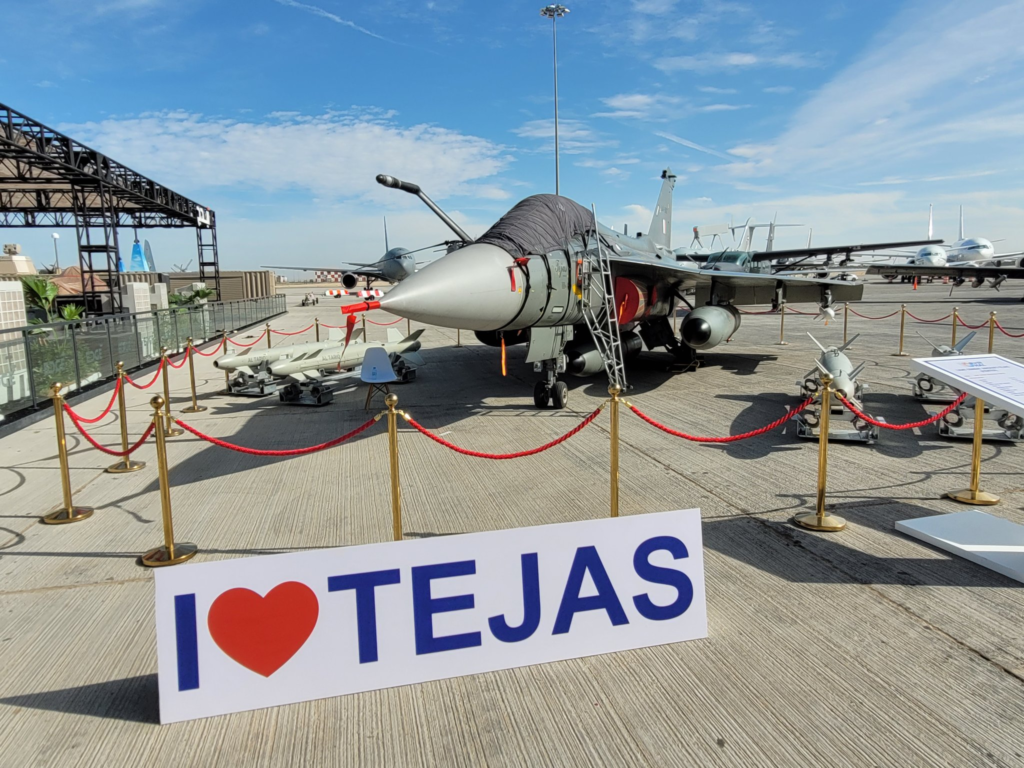 Global Recognition and Collaborations: While Al Tariq did not receive widespread attention at the Defense Expo in India, it has, nevertheless, made appearances at global events such as the World Defense Show in Saudi Arabia and the Bahrain International Airshow. The recent contract worth AED1bn ($272.22m) secured by HALCON, a subsidiary of EDGE Group, to supply Al Tariq-LR PGMs to the UAE Armed Forces, underscores its growing international recognition.
Al-Tariq in Nutshell :
Precision-guided Bomb Kit : Al Tariq is a family of strap-on bomb kit systems, used on Mk81 and Mk82 bombs. Al Tariq provides the user with all-weather, day or night operational capabilities, utilising GPS/INS guidance or Imaging Infrared (IIR) with complete Automatic Target Recognition (ATR) capability, or a Semi-active Laser (SAL) seeker. The system can also be fitted with an RF proximity fuse for area targeting, using a pre- fragmented warhead. It is autonomous target acquisition with stand-off range.

System Features
Autonomous target acquisition with long stand-off range.
Wing kit or motors may be added to increase stand-off range and low-level (straight and level) launch capability.
Programmable attack angle up 0 to 90 (straight from above).
Different adaptations possible, including seekers, fuzes and warheads, utilising a common airframe.

Characteristics
Range over 100 km (depending on configuration)
Accuracy as low as 3 m CEP (laser or IIR)
Warhead: MK81, MK82 and variants
Large launch envelope
Wireless integration capability with the launch aircraft
Fully autonomous operation once released
Modular system
Low maintenance and life-cycle cost
Minimal logistics equipment
Ease of use
Extended Range (ER) module can increase range to 200 km

Typical Missions and Targets
Offensive counter-air, e.g. hardened aircraft shelters, runway cratering, runway denial, aircraft on tarmac.
Battlefield interdiction, e.g. air defence units, surface-to-air missile launchers, supply columns (trucks).
Deep battlefield interdiction, e.g. buildings, bridges and refineries, industrial areas.
Close air support, e.g. troops, artillery.
Quiet Agreements and Collaborations: Contrary to public attention, the agreement signing during Aero India 2023 between makers of Al Tariq and Bharat Dynamics (BDL) was a low-key event. Similarly, the memorandum of understanding (MoU) between makers of Al Tariq and Hindustan Aeronautics (HAL) suggests a more subdued approach to collaboration, pointing towards strategic yet understated diplomatic negotiations.
Development and Design: The Al Tariq range of guidance systems, stemming from Tawazun Dynamics, has evolved into a sophisticated weapon system based on Denel Dynamics' Umbani precision-guided bomb kit. The Al Tariq-LR PGM, with its modular design, provides operational flexibility and can be integrated into various fighter aircraft, potentially enhancing India's defense capabilities.
Advanced Features of Al Tariq-LR PGM: Weighing between 310kg and 366kg, the Al Tariq-LR PGM offers all-weather, day and night operational capability with a range exceeding 120km. Its advanced features include off-axis launch capability, wireless cockpit programming, and compatibility with military standard databus connections.
Integration with LCA Tejas: The static display of LCA Tejas with the Al Tariq missile at the Dubai Air Show fuels speculation about potential collaborations between India and the UAE. Given the existing integration of the American Joint Direct Attack Munition (JDAM) with LCA Tejas, the display hints at the possibility of offering the Tejas to the UAE as a Lead-in Fighter Trainer or a complementary fighter alongside their diverse fleet.
Conclusion: While the Dubai Air Show is yet to conclude, the joint display of LCA Tejas and the Al Tariq missile underscores the ongoing efforts to forge international collaborations in the aerospace sector. The subtle nature of agreements and collaborations suggests a strategic approach, pointing towards the nuanced dynamics of global defense partnerships in the contemporary geopolitical landscape.