Rafales of Golden Arrows & Falcons – Part 2
– Admin Alpha Mariner
With 3 more Rafales having arrived in India post mid-air refuelling tanker support from UAE and France, the number of such omni-role fighters in the IAF squadron has gone upto 20. You can watch the update here. The first Rafale squadron 17 'Golden Arrows' was raised in Ambala airbase and is already operational. The current 3 Rafales that have arrived will go to the second Rafale squadron 101 'Falcons' being raised at Hasimara airbase in West Bengal.
"The Rafales will provide the IAF with necessary SEAD capabilities and thereby providing an asymmetrical edge over adversaries."

– Alpha Defense
In the first part of Rafale of Golden Arrows and Falcons, we looked at the avionics, radars, sensors, ECMs and ECCMs in detail. We also touched upon the certain Indian specific enhancements that the Indian Air Force asked to be integrated. In case if you haven't read that article and if you are interested to know, you can read it here. Further you can watch a detailed video on part 1 here.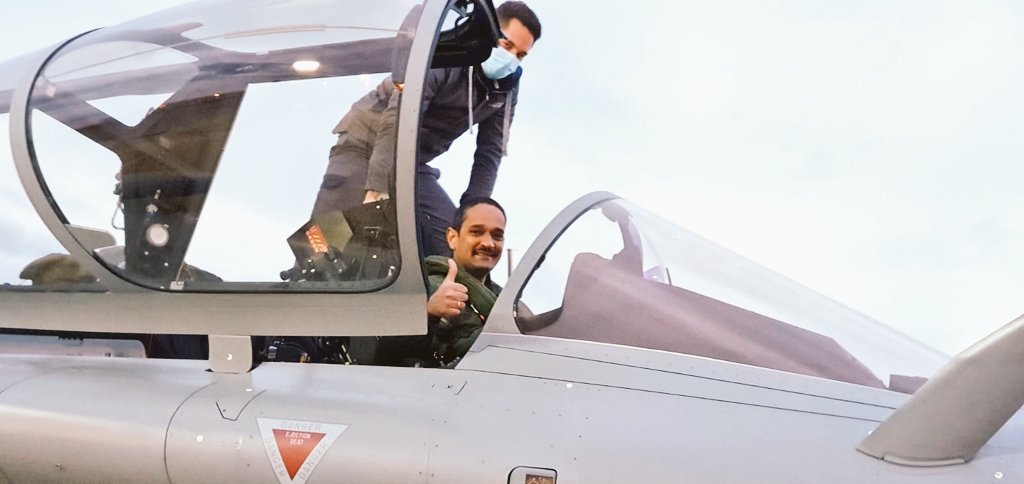 In this article we shall look into the engine and the various missiles that Indian Air Force has opted for In the next part we shall look into the maintenance aspects of Rafale. As we know, maintenance issues has been one of the key problems the Indian Air Force has faced in that past given its history with Soviet warplanes.
Let us first take a look at the engine.
Snecma / Safran M88 of the Rafales
Safran M88 engines are capable of providing 50 kN of dry thrust and 75 kN with afterburners. It weighs 897 kgs in dry condition and is comprised of and axial 3-stage low pressure and 6-stage high pressure stage compressor. The combustors are annular which indicates that the engine is a turbofan. The turbine has a one each low pressure and high pressure stages. The M88-4E variant used in Rafales offers a high thrust-to-weight ratio (more than 0.988 offered by M88-2) and was an improvement over the previous M88-2 variant offering better maintainability, high dispatch reliability and lower operating costs. It is also called as the 'Total Cost of Ownership' TCO programme.
The M88-4E incorporates many advanced technologies such as
Integrally bladed compressor disks also called as blisks
low-pollution combustor with smake-free emissions
Single-crystal high pressure turbine blades
Ceramic coatings
Composite materials
The TCO programme helped Safran reduce cooling needs, introduce stronger components and boost durability by 50%. The life expectancy between overhaul was considerably expanded for a number of modules. That helped them minimise the impact of planned maintenance on engine availability. The M88-4E is modular in construction. These engines are further being upgraded and will be used in the Rafale F4 standard which probably could be offered to IAF should they place an additional order of 36.
2 M88-4E engines on Rafale enables it to have a ferry range of 3700 km with 3 drop tanks. These engines enable it to have a combat range of 1850 km and can help it supercruise at Mach 1.4. These engines enable Rafale to reach maximum speed of Mach 1.1 at low altitude and Mach 1.8 at high altitude.
The Indian specific enhancement in the engine section is the capability for high altitude engine startup at 12000 ft.
Missiles on Indian Rafales
With 14 hardpoints, and a capacity to carry paylaod in excess of 9 tonnes, the Indian Rafales come loaded with a beasty set of armaments. One should also note that Rafales are capable of carrying nuclear missiles and hence the IAF definitely has the option to arm Rafales with nuclear capable Brahmos. In addition to that Rafales come equipped with some of the state-of-the-art missile systems.
BVRAAM
Meteor
When it comes to the armaments of a fighter, the first capability always being looked at is the air-air capability. Further digging, its the BVR (Beyond Visual Range) capability that matters. Indian Rafales come equipped with Meteor BVRAAM, one of the best BVRAAM in the world. Meteor is said to have a range in excess of 100 kms with some sources stating 150 kms and it has a no escape zone of '60 kms'. This means if the missile is fired within that 60 km range, then the adversary aircraft is guaranteed to be hit. Meteor has a speed of Mach 4 which along with its huge no escape zone makes it one of the dealiest BVRAAMs in the world.

Meteor is active radar guided and has a blast fragmentation warhead. It integrates the proximity and imapct fuses. It is equipped with a 2 way datalink that allows Rafale to provide update updates on targets or re-targeting when the missile is in flight. The datalink can transmit kinematic status and also notifies about the target acquisition by the seeker. Meteor is powered by a solid fuel variable flow ducted ramjet engine. This provides it with the ability to maintain consistent speeds. Hence meteor can chase and destroy fast moving flexible targets.
The electronics and propulsion control unit (EPCU) of Meteor adjusts the rocket's air intake and duct covers based on the cruise speed and the target's altitude. The EPCU observes the distance and fuel level in the rocket and adjusts the throttle, thereby helping the missile manage its fuel system.
The Meteor BVRAAM marks a paradigm shift in India's air-air warfare capabilities.
Assistance for Astra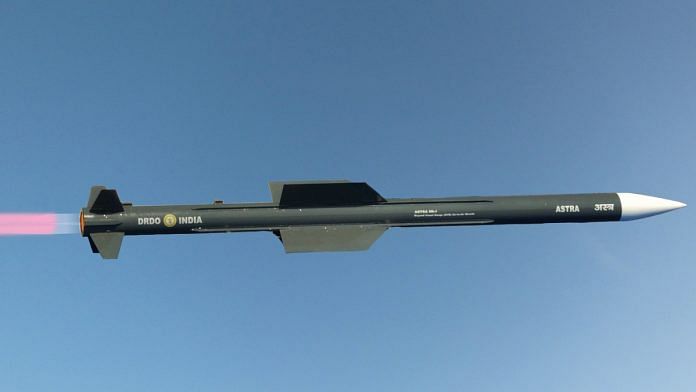 The Indian Rafale deal includes assurances for coding extensions to other in-development Indian weapon systems namely the Astra BVRAAM. Definitely Astra Mk1 can be integrated currently and Mk2, Mk3 being future integrations as they develop.
Short range AAM
MICA
The IAF recently in April, 2021 conducted sorties in Rafale equipped with wing-tip mounted RF MICA missile over Ladakh. MICA can be used both as a short range missile as well as BVR.
RF MICA has a radar seeker and provides an all weather shoot-up/shoot-down capability. In SR combat situations, combination of LOAL and the excellent acquisition and tracking performance authorize 360 degree envelope with first shoot/ first kill capability evne in case of a threat in backward sector. MICA has a range of upto 80 kms and is capable of reaching speed of Mach 4. Its midcourse guidance is inertial based and at the terminal it has active radar homing. MICA carries a 12 kg warhead.
Long range stand-off missile
SCALP
SCALP is a long range stand off missile that the IAF has opted for in twin loadouts. SCALP has an operational range of over 560 km and has a top speed of Mach 0.8 to Mach 0.95. It has a Lo-Lo operating profile with flight altitude of 30 to 40 metres.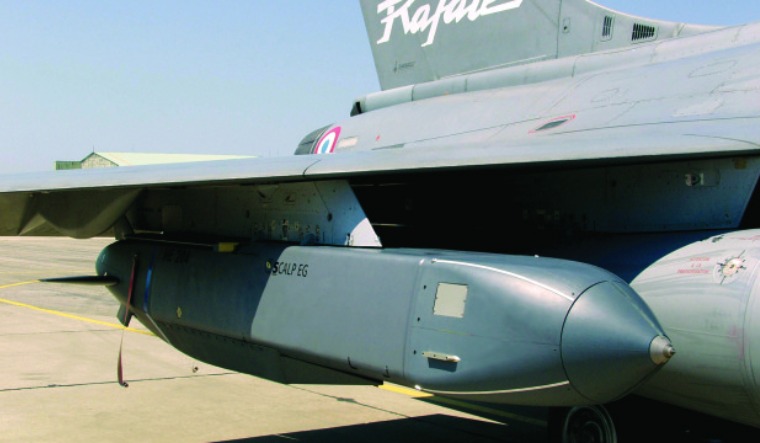 SCALP is a highly proven combat missile and comes handy in destruction of high value targets. Its Lo-Lo operating profile means it has ground hugging trajectory and hence can easily evade enemy air defence units. WIth its blast penetration warhead it can destroy high value targets such as bridges, bunkers etc. It can carry out high destruction against high value assets, railroads, power plants, airfields and command and control centres. SCALP provides IAF with a very potent subsonic long-range stand off capability with high precision.
Future integration of Brahmos-NG with Rafale
The much lighter variant of Brahmos, Brahmos NG can be integrated in the future with Indian Rafales thereby enabling the use of Rafale as a part of the Indian nuclear triad.
Verdict on missiles
The Indian Rafales are an evolution in itself and its capability as 4.5 gen fighter will only get further enhanced as Brahmos NG gets integrated. The strategic positioning of Rafales from Ambala and Hasimara air bases mean that IAF can hit targets far into Pakistan and China mainlands from well within India.
Another factor is that the recent visit by ACM RKS Bhadauria to France and visiting the M88 production line indicates a long term strategic partnership with Dassault Aviation especially in the platform of Rafale. This is substantiated additionally by the previous event of
An MoU signed in Aero India 2021 for M88 engine assembly by HAL under the banner of 'Make in India'.
Additionally that MoU also made provision for India to use M88 in India's indigenous fighters if needed.
An openness for collaboration between Safran and HAl to work on 110 kN thrust engine which will be needed for TEDBF and AMCA.
This opens the doors for made in India M88 engines by HAL if India places additional orders for Rafales.
Hence a win-win partnership for both India and France that further enhances the cooperation to key strategic levels more importantly the possibility of Rafale-M for the Indian Navy.
About Rafale munitions, bombs and maintenance
The other munitions and bombs with the IAF shall be covered in part 3 of this series. And in part 4 we shall look in deep about the maintenance aspects of Rafale. Incase we have missed out something in the missile section, please let us know in the comments. We shall add them here. In detail content about these missiles will be published in coming months. Also HAMMER will be included in part 3.
Hey! If you liked what you read, we could appreciate your help in spreading the word about our website. Keep reading and watching Alpha Defense.
Looking for Brahmos-X? Read our exclusive coverage.
Copyright policy : This article is exclusively written for Alpha Defense ( https://alphadefense.in/ ) by Admin Alpha Mariner, the author. The content may be referenced but this article or its sentences either in full or in part cannot be exactly copied or republished in any form be it article, audios, videos, infographics or clippings without the written consent of Admin Alpha Mariner, the writer. The content if referenced, due credit must be given to Alpha Defense i.e https://alphadefense.in/. Violation of our copyright policy will be subject to legal action within the framework of Copyright Act, 1957 India