The Defence PSU Garden Reach Shipbuilders and Engineers Ltd. has built the first Project 17A stealth frigate. The Yard no. 3022, INS Himgiri was launched on 14th December 2020 in presence of Chief of Defence Staff General Bipin Rawat as chief guest.
The indian Navy will get seven ships under this class of which four will be built by Mazagon Dock Ltd in Mumbai and three by Garden Reach Shipbuilders. INS Himgiri is the second ship of the class that is launched, earlier INS Nilgiri was launched on 28 September 2019.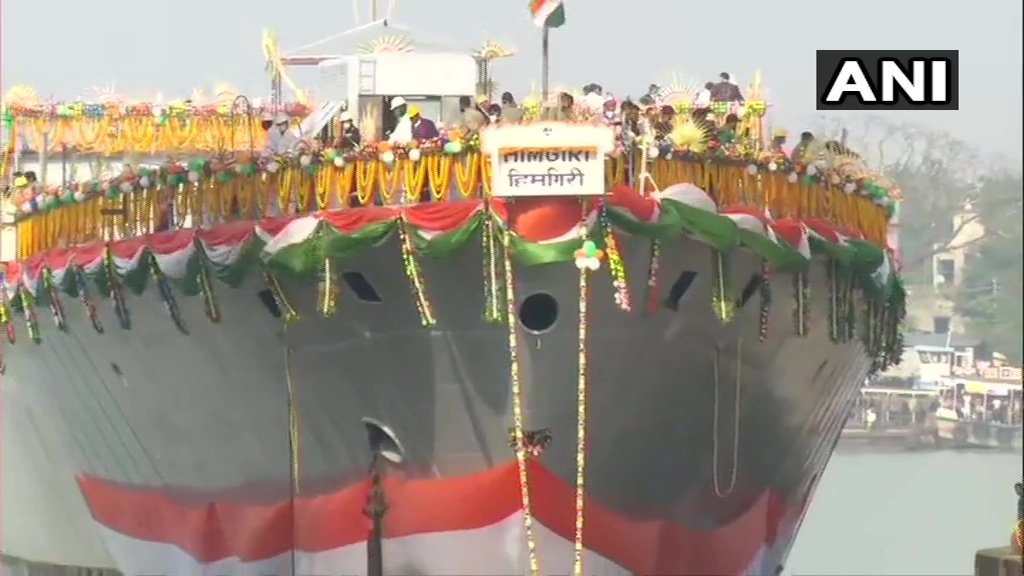 A closer look at the Nilgiri-class frigate:
The Nilgiri-class stealth frigate or Project 17A is a follow-on and an improved version of the Project 17, the Shivalik-class stealth frigate. These frigates were the first stealth frigates ever constructed in Indian. Gaining the experience from the Shivalik class the Project 17A has much better stealth characteristics. This frigate will have a clean and covered mooring deck with a reduced number of antennae on the ship. This antenna reduction will be achieved using the EL/M-2248 MF-STAR AESA radar complex.
Propulsion System of the Ship:
The ship will be powered by 2 x MAN Diesel 12V28/33D STC engines each producing 6000 kW each. It will also feature two LM 2500 from general electric, an industrial and marine gas turbine produced by GE Aviation.
The propulsion system using these two different types of engines is called combined diesel or gas (CODOG) type propulsion.
The Combined diesel or gas type propulsion system (CODOG) is a system for ships that need its top speed to be considerably faster than its cruise speed, thus it becomes an attractive choice particularly for warships like modern frigates or corvettes. The architecture of this type of propulsion is complex, it has a shaft connected to each propeller which is connected to one diesel engine for cruising speed and one geared gas turbine for high-speed dashes. These two engines are connected to the shaft with clutches, that allow only one system to drive the ship at one given time.
Sensors and Electronics of the Ship:
Equipped with next-generation bow-mounted sonar BEL HUMSA-NG, this ship will feature IAI EL/M-2248 MF-STAR S-band AESA radar.
The EL/M-2248 MF-STAR is a multi-function all-solid-state next-generation Active electronically scanned array radar (AESA) developed specifically for new generation of naval platforms. Typically, radars rotate to secure a 360-degree view, but this radar system is made up of 4 active arrays operating in the S-band, each of the 4 arrays is positioned in one direction covering the entire 360 view.
The radar uses a multi-beam that allows it to search and track simultaneously. It employs pulse Doppler techniques as-well-as a vigorous Electronic counter-countermeasures technique to extract low radar cross-section targets from complex clutter and jamming environments.
The ship likely will have LANZA 3D as a secondary radar for the air surveillance applications. The system will provide Air route surveillance (ARSR). It will support Dual-use systems, that will be suitable to guide the approach (MR) and en-route (LR) air traffic control while providing primary 3D air surveillance with range converges up to 470 KM.
Electronic warfare Capabilities: The Nilgiri class of stealth frigate will inherit not only the MF star from Kolkata class guided-missile destroyers but will also get the electronic warfare capabilities. The frigate will carry the ELLORA MK I Electronic Support Measures (ESM) system which is a part of the integrated electronic warfare suite developed indigenously by BEL and called the Ajanta MK2 electronic warfare (EW) suite. It is a development by the Defence Electronics Research Laboratory (DLRL).
The ship will be equipped with indigenous "Kavach" decoy control & launching system that will respond to multiple aerial threats from any directions by launching a salvo of fast maneuvering decoy rocket launchers at accurate time intervals.
Kavach system has chaff rockets of three different versions:
Long Range: 12 km (7.5 mi)
Medium Range: 5 km (3.1 mi)
Short Range: 1 km (0.62 mi)
The system releases chaffs made up of silver coated glass fiber with a specific type of radar signature to deceive the incoming guided missiles.
Kavach decoy rocket onboard INS Chennai
Fire Power:
The Nilgiri class with a significant ground attack and anti-ship capabilities can wreak havoc on the enemy ships or ground targets.
The offensive component of the ship consists of
1 – 5″/54 caliber Mark 45 gun (naval artillery piece)
8 Brahmos supersonic cruise missile in the vertical launch system
Two triple torpedo tubes
Defensive components
2 RBU-6000 ASW rocket launchers
2 AK-630M CIWS
32 Barak 8 Long-range surfaces to air missile systems.
Air Wing:
The ship will have a hanger for two multirole helicopters, these could be the heavy sea king helicopter, HAL Dhruv or the latest MH64 R.
Overall, this frigate is a beast in making.