Kalyani M4 vs Oshkosh L-ATV
-Bhagvan Hindustani
In previous article, we had seen the comparison between three Indian Combat tactical vehicles and came to know that Kalyani M4 is the biggest, heaviest and the most capable of all the three. If you missed that article, you can read it here. Now let's compare Kalyani M4 which is actually based on a South African vehicle to America's Oshkosh L-ATV.
Kalyani M4
Kalyani M4 is basically a license produced version of South Africa's Mbombe 4 which is built by Paramount group. Indian army gave an order worth of 177.5 crores to Bharat Forge for the supply of this vehicle. This is a very limited order and we will see why Kalyani M4 wasn't ordered as heavy as the ALSV in just a bit.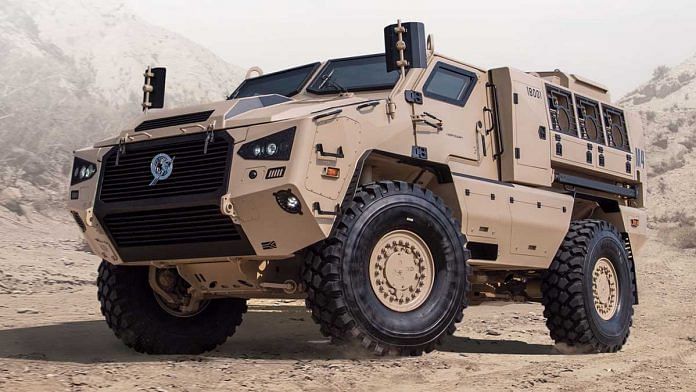 M4 has a maximum payload capacity of 2300 kilos whereas ALSV has a maximum payload capacity of just 1000 kilos. This vehicle can carry 8 crew members along with their battle load. M4 is powered by a six cylinder engine which generates 465 hp and 1627 NM of torque which is literally twice that of the ALSV. This engine comes mated to a CVT (Continuous Variable Transmission) gearbox just like our scooters (funny but yes we have to deal with it). M4 also comes with 4×4 drivetrain and all wheel independent suspension and can achieve a top speed of 140 kmph, 20 kmph higher than the ALSV.
Apart from these above mentioned features, M4 also comes equipped with ABS, run-flat tyres and a low range gearbox for heavier off road duties. This can also be used to drive over IEDs and over rough terrains with mines.
Oshkosh L-ATV
In 2006, US army floated a tender named "Joint Light Tactical Vehicle" to replace the Hummers partially that is being used by them. In August 2015, the US army ordered a total of 16901 vehicles of Oshkosh's L-ATVs. In June 2019, the US army approved for a full scale production of these vehicles. Oshkosh did compete with companies like General tactics, BAE systems, Lockheed Martin and AM General to win this contract.
This particular vehicle is very versatile with adjustable ride height up to 51 centimetres of wheel travel from 40 centimetres. The vehicle comes equipped with a V8 diesel engine generating 340 hp and this vehicle can also be equipped with a diesel – electric hybrid system too which is capable of generating 120 kW of AC power. This system is touted to increase the fuel efficiency of the vehicle dramatically. The curb weight requirement for the JLTV programs was around 6400 kilos with a pay load allowance of around 1600 kilos with four crew carrying capacity. This was for the combat tactical configuration and for Combat support vehicle configuration, the vehicle needed to carry a payload of 2300 kilos. Oshkosh L-ATV is available in either two or four door configurations. The two door one can carry a maximum payload of 2313 kilos and the four doors one can carry up to 1588 kilos.
Guns
The base JLTV doesn't have any standard armament though it can be retro fitted with light, medium and heavy sub machine guns, automatic grenade launchers and ATGMs. This platform is a modular platform and various mission packages can be added over standard vehicle platform. Though not a lot of information is available about the armament packages that are used as these are mission specific, a few of them are listed below.
1) M1278 Heavy guns carrier
This package consists of heavy guns for general purpose.
2) M1279 Utility
This package is for utility missions based on base vehicle platform.
3) M1280 General purpose
This package is for general purpose based on base vehicle platform.
4) M1281 Close combat weapons carrier
As the name suggests, in this package, the vehicle can carry close quarter combat weapons over the base vehicle platform.
Let's compare the important parameters of Kalyani M4 and Oshkosh L-ATV
| | | |
| --- | --- | --- |
| | Oshkosh L-ATV | Kalyani M4 |
| Engine output (hp) | 340 | 465 |
| Top speed (kmph) | Not available | 140 |
| Crew | 4 | 8 |
| Payload capacity (kilos) | 1588 – 2313 | 2300 |
| Fuel type | Diesel | Diesel |
| Drivetrain | 4×4 | 4×4 |
| Safety | Not available | Not available |
It can be noted that L-ATV falls in the same class as Kalyani M4 at least in terms of payload for certain configurations. There is no information about how Indian army is going to equip M4 but looking at the comparison, we can clearly say that M4 is on par with Oshkosh L-ATV.
Like what you read? Help us spread the word.