Reports recently emerged that Indian air force is set to acquire the C-295 tactical aircrafts which are new generation tactical aircrafts that was designed by Airbus, a consortium in Europe. These aircrafts are capable of performing multiple roles such as troop transportation, humanitarian relief and others.
These aircraft are intended to replace the old Avro- HS748 planes that were inducted in the 60s. The aircrafts can potentially replace the An32 of Indian airforce which in another 5-10 years will require replacement.
Before understanding where this aircraft will fit into all scheme of things, lets understand the transport fleet of Indian Airforce.
The Transport fleet of Indian Airforce :
Strategic Airlifters :
Ilyushin Il-76 : Acquired from Russia (Soviet Union): These aircraft are classified as strategic air-lifters. The Indian airforce operates 17 units of these air lifters.
C17 Globemaster III: These aircraft were acquired from the United States of America. Currently, the Indian airforce operates 11 of these strategic air-lifters and wanted to acquire more but these aircraft are no longer available. The assembly line of these aircraft was closed given the lack of orders.
Tactical Airlifters :
C130 J Super Hercules: These aircraft are currently the workhorse of the Indian airforce. Acquired from the united states of America, the Indian airforce operates more than 12 of these aircraft.
Antonov An-32: Acquired from Ukraine these aircraft share Lion's share of the work in the tactical air lift category. Currently, the Indian airforce operates 104 of these aircraft. 53 units of these 104 is upgraded to the An-32 RE standards and the remaining may require a replacement in coming years.
Light Transport Aircrafts
Hawker Siddeley HS 748 (Avro) : These Aircraft are nearly 60 years old. The Indian airforce operates 57 of these and requires an urgent replacement of these. The aircraft has the following problems:

The altitude to which this aircraft can fly is limited. Thus it cannot be operated in high mountainous airfields.
The aircraft does not have a ramp for loading and unloading. Thus aircraft can lift troops or very small pallets.
Also, though the frames have some life left. These aircraft are fairly older aircraft.
The C295 addresses all the above-listed problems and can be used to perform the roles of "Tactical Airlifters" as well. This aircraft can be categorized as light tactical lifters between C-130J and An-32.
The deal which was finalized in May 2015 which is worth $ 2.5 billion as of now is said to be in the final stages of the approval as the defence ministry is about to sign the deal with Airbus for the 56 aircrafts for IAF and 6 for the coast guards. Of the 56, it is also reported that 14 of these aircrafts will be bought in fly away condition and the rest of the order will be executed by their Indian partner, Tata advanced systems via transfer of technology. According to the reports, the first 16 plane will be delivered in a span of two years and the rest of the plane will be delivered in a span of 8 years. This deal took 8 long years to complete and it has actually spanned a new term called the Avro model because of the unique way of the procurement.
Roles and capabilities of C-295
C-295 is a mighty capable aircraft which can carry multiple roles at. Let's take a look at the capabilities and technical specifications of the aircraft.
Why IAF chose C-295
C-295 is a battle proven platform as it saw deployment in remote areas such as Chad, Iraq and Afghanistan. It also operates regularly in the hot and humid climates of Brazil and Colombia which makes it a perfect match for sub-continent weather conditions. As the maximum payload is around 9 tonnes, this aircraft can land in areas where heavier C-130js cannot go though IAF has the capabilities to land heavier aircrafts at higher altitudes.
The C-295 W variant
The new variant C295W of this aircraft also comes installed with winglets which help the aircraft in transporting more payload over longer distances in hot and humid climatic conditions which results in savings of fuel consumptions of up to 4% and also provides additional safety in mountainous regions.
The combination of winglets and increased power settings provides in particular:
 improved take-off performance at hot and high airfields
 higher cruise altitudes especially at high weights (Upto 45,000 ft)
 increased endurance
 reduced overall fuel consumption of between -3% and -6%
C-295 was also used during long operations which lasted for more than two years and up to 90 flying hours per plane per month which is quite high to speak which is a testament of the capabilities of this aircraft.
As discussed, this aircraft can also carry troops and can para-drop the paratroopers and conduct medical evacuation missions.
This aircraft can also be used as a mid-air refueller which can be a boon as IAF has been looking to buy more air tankers to increase its operational capabilities. The first mid-air refueling capabilities of this aircraft were demonstrated in 2016 and in early 2017, it also refueled the H225M Caracal helicopter.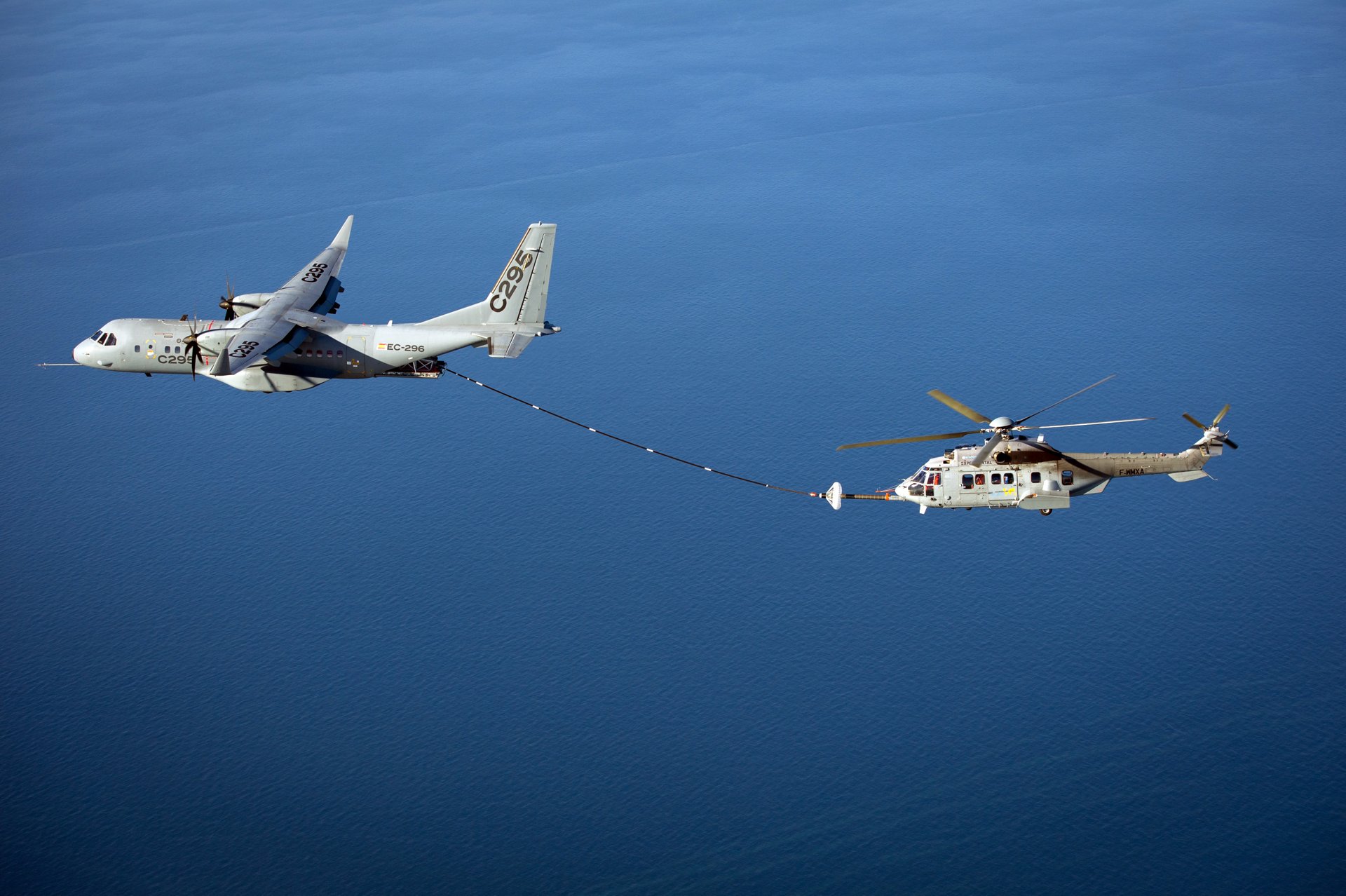 In 2020, the aircraft achieved its first wet contacts during an air-to-air refueling test campaign using a 100 feet long deployable hose. In addition to the above capabilities, C-295 can also be fitted with gunships which can be used for ground support roles.
This aircraft can also be equipped with optional self-protecting equipment like radar warning receiver, missile warning, laser warning, and chaff/flare dispensers. It is also an all-weather aircraft that can operate in extreme cold, hot and humid conditions and is also certified to conduct night combat missions.
The other roles this aircraft can be used for are COMINT / ELINT, Airborne Early warning System, Submarine hunter and water bomber.
Considering all the above factors, IAF and coast guards have made the right choice by selecting the C-295 aircraft, and let's all hope for the deal to be signed as soon as possible.